5, Vocational Intervention Program
The VIP
The VIP is designed to achieve better work outcomes for people with brain injury, through establishing a network of vocational service providers who work in close collaboration with the case managers and clinicians providing specialist brain injury rehabilitation services across in the NSW Brain Injury Rehabilitation Program (BIRP)
Program Pathways:
The two prescribed pathways of the VIP are Fast Track and New Track.
Fast Track is an early intervention providing graduated RTW programs for clients with the opportunity and capacity to resume work with their pre-injury employer.
New Track is for those seeking new employment, focused on intensive job seeking and with provision for pre-vocational activities for those not ready for open employment.
Providers:
Vocational providers (working in insurance markets, NDIS and DES) have formed partnerships with the BIRP teams, with multiple provider options for each  site to ensure both geographical coverage and access to all available funding schemes.
Details of the VIP providers participating within each region can be found on the ACI website:

Contact
For further information about the VIP, including Project REPORTS and CASE STUDY VIDEOS
Contact: Email: ACI-BrainInjuryRehab@health.nsw.gov.au
VIP Details
The VIP model and roles
The VIP operates under a model of service integration designed to achieve efficient co-ordination of specialist brain injury and vocational rehabilitation services. Successful service integration requires effective communication, co-operation and the blending of expertise to support vocational goals. VIP aims for health and vocational rehabilitation goals to be addressed concurrently, not sequentially, to improve timely engagement in vocational rehabilitation and improve vocational outcomes.
This service integration model has been successfully implemented in other health/vocational rehabilitation partnerships both locally and internationally, particularly in mental health service systems.
Roles
BIRP clinicians
The BIRP is the primary referral source and will contribute clinical expertise in brain injury, assessing the impact of injury on the individual, and their capacity to return to paid work and participate in meaningful activity in the community. Each client usually has a case manager assigned within the BIRP (or an external case manager funded through an insurance claim), who co-ordinates their rehabilitation activities.
Vocational Rehabilitation (VR) Service Providers
VR service providers working in partnership with the BIRPs manage all aspects of the client's return to work/employment program. Client appointments may take place at the provider's local offices, in the community or at the workplace, as appropriate. The VR service providers will have experience in delivering employment services, industry knowledge of RTW/employment placement processes, local employer contacts and access to employer incentives for people with disabilities.
Program sites:
Locations of 12 adult BIRP teams:

BIRP site

Office location/s

Major towns/suburbs serviced

Ryde

Royal Rehab

Sydney city
Northern Sydney
Eastern suburbs
Inner western Sydney

Liverpool

Liverpool Hospital

Southern Sydney
South-western Sydney
Southern Highlands

Westmead

Westmead Hospital

Western Sydney
Nepean
Blue Mountains
North-western Sydney

Northern NSW

Ballina

Ballina, Byron Bay, Casino, Grafton, Lismore, Maclean, Mullumbimby, Murwillumbah, Tweed Heads, Yamba.

Mid North Coast

Coffs Harbour
Port Macquarie

Coffs Harbour, Bellingen, Bowraville, Coramba, Dorrigo, Macksville, Nambucca Heads, Nana Glen, Sawtell, Urunga, Woolgoolga, Crescent Head, Kempsey, Laurieton, Port Macquarie, South West Rocks, Wauchope.

New England

Tamworth

Armidale, Barraba, Bingara, Boggabri, Glen Innes, Gunnedah, Inverell, Manilla, Moree, Narrabri, Quirindi, Tamworth, Tenterfield, Walcha, Warialda, Wee Waa.

Hunter

Newcastle

Cessnock, Gosford and surrounds, Maitland, Merriwa, Murrurundi, Muswellbrook, Newcastle, Scone, Singleton, Taree

Southern NSW

Goulburn

Bateman's Bay, Bega, Bombala, Braidwood, Cooma, Crookwell, Eden, Goulburn, Moruya, Murrumburrah-Harden, Pambula, Queanbeyan, Young, Yass, Jindabyne

Mid Western NSW

Bathurst

Lithgow, Wallerawang, Portland, Kandos, Rylstone, Oberon, Bathurst, Hill End, Blayney, Orange,  Molong, Yeoval, Cowra, Canowindra, Grenfell, Forbes, Parkes, Peak Hill, Condobolin, Trundle, Tullamore, Tottenham, 

Dubbo

Dubbo

Barradine, Bourke, Brewarrina, Cobar, Coonabarabran, Coonamble, Dubbo, Dunedoo, Gilgandra, Goodooga, Gulgong, Lightening Ridge, Mudgee, Narromine, Nyngan, Trangie, Walgett, Warren, Wellington.

South Western NSW

Albury

Wagga Wagga

Albury, Ardlethan, Batlow / Adelong, Berrigan, Boorowa, Coolamon, Cootamundra, Corowa, Culcairn, Deniliquin, Finley, Ganmain, Griffith, Gundagai, Hay, Henty, Hillston, Holbrook, Jerilderie, Leeton, Lockhart, Harden, Narrandera, Temora, Tocumwal, Tumbarumba, Tumut, Wagga Wagga, West Wyalong, Wyalong, Young

Illawarra

Port Kembla

Nowra

Stanwell Park, Wollongong, Port Kembla, Kiama, Nowra, Jervis Bay, Milton, Ulladulla
Fas
Fast Track pathway
The Fast Track pathway targets people with the opportunity and work capacity to return to their pre-injury place of employment. The 'pre-injury employer' is defined as the employer engaged in a contract of employment with the client at the time of injury.
Return to Work programs follow a graduated approach that is tailored to the needs of each client and employer and includes strategies to manage physical and cognitive effects of injury. Clients may RTW on either suitable duties within their preinjury position or full duties on reduced hours.   If this position is not available, then all familiar roles within the business should be considered ahead of new or unfamiliar roles.
Clients will be referred for a Fast Track program by their case manager at the earliest suitable time to allow assessment, employer liaison, education and development of the RTW plan.  Programs will be continuous, including longer term follow-up, to assist all parties in responding to change and prevent breakdown of the employment relationship.
Eligibility criteria
To be considered for referral to the VIP the following criteria must be satisfied:
Employment circumstances
• Client was employed at the time of injury
• Client has indicated willingness to return to work with their pre-injury employer; and
• Employer indicates they are able to provide a graded RTW program
Diagnosis
• Primary condition is TBI or non-traumatic ABI
Readiness for RTW
• Medical clearance to commence vocational rehabilitation
• Accommodation is stable and enables the client to reliably engage in community activities
• Sufficient cognitive capacity to apply new information in everyday situations, such that the level of support can reduce over time
• Ability to attend to own personal care needs in a community setting
• Ability to mobilise independently in the community and workplace (with or without aids)
• Appropriate social behaviour or behaviour that can be managed with support and strategies in the workplace; and
• No current alcohol or drug use that compromises program engagement.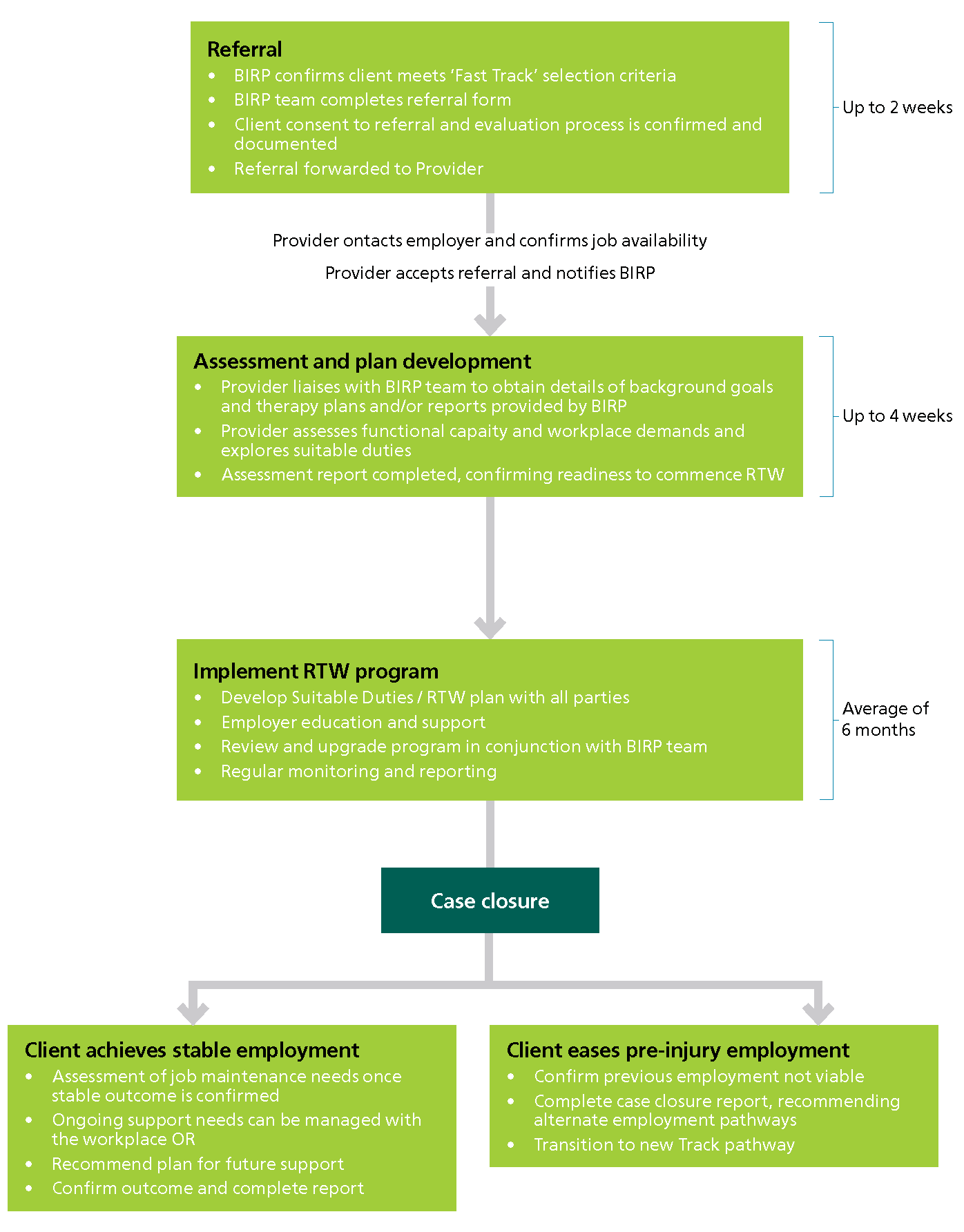 CASE STUDY
Link to FT video on ACI website: (Phillip Duncum)
https://www.aci.health.nsw.gov.au/resources/brain-injury-rehabilitation/vocational-intervention-program/vip
New Track pathway
The New Track pathway targets participants with brain injury who do not have the opportunity to resume employment with their pre-injury employer, and require assistance to identify new opportunities and pathways to work.  The long term goal of New Track is to obtain new paid work.  However, individual goals, services and support will vary. For example some participants may have identified job goals, but others will require assistance to generate new ideas, to consider any RTW obligations they may have and to plan and undertake job seeking and/or retraining.
New Track pathway may involve supporting participants to commence a prevocational activity if their capacity to work is not clear.  Prevocational activities may include voluntary work, participating in work skills groups, work trials and other work preparatory activities.  Pre-vocational activities along with vocational counselling can assist to clarify a client's work capacity, explore realistic employment opportunities and determine future employment pathways.
Eligibility criteria
To be considered for referral, the following criteria must be satisfied:
Employment circumstances
• Client does not have an identified employer; and
• Client has an active rehabilitation goal to participate in employment
Diagnosis
Primary condition is TBI or non-traumatic ABI
Readiness for work
• Medical clearance/support where applicable
• Accommodation is stable and enables the client to reliably engage in community activities
• Client has sufficient cognitive capacity to apply new information in everyday situations, such that the level of support can reduce over time
• Client has the capacity to attend a work program at least eight hours per week or work towards this within the first plan period.
• Ability to independently attend to own personal care needs in a community setting
• Ability to mobilise independently in the community (with or without aids), though may require support to access new locations
• Appropriate social behaviour or behaviour that can be managed with support in a work or training environment; and
• No current alcohol or drug use that compromises program engagement.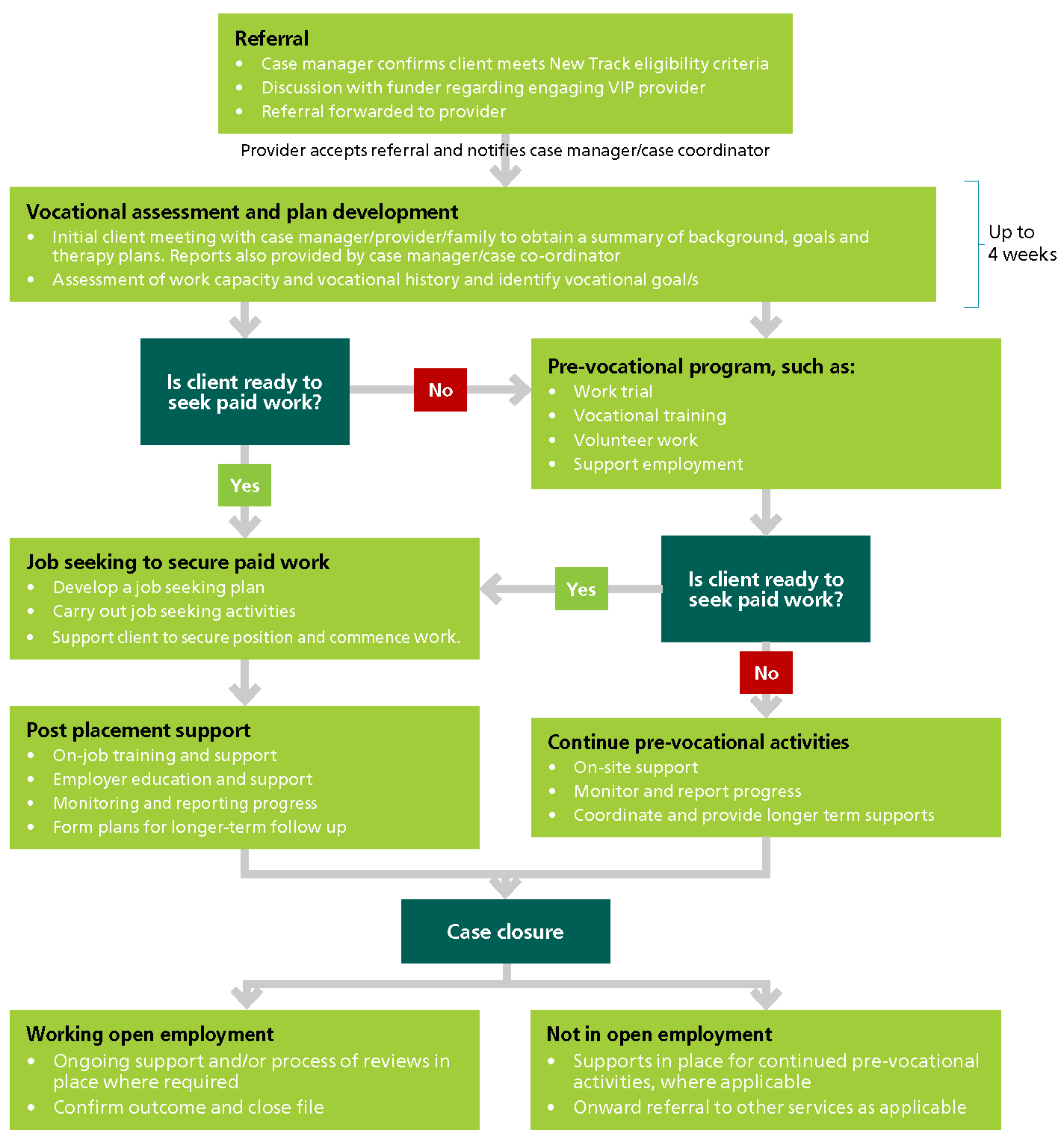 Case study – insert video from ACI website (Julian and Antony)
https://www.aci.health.nsw.gov.au/resources/brain-injury-rehabilitation/vocational-intervention-program/vip
VIP funding streams
In Australia, provision of employment services is the responsibility of the Commonwealth Government, whilst provision of health, rehabilitation and accident compensation reside with the state government.
People with severe traumatic brain injury (TBI) may interact with an array of state health, rehabilitation and insurance bodies, and Commonwealth welfare and employment service agencies, depending on their needs and how their injury was sustained.
VIP services are funded through existing channels. Outlined below are the three broad service systems in NSW for the provision of vocational rehabilitation for this client population.
Note that clients may be eligible for more than one funding source, e.g., those injured in motor vehicle accidents with compensation, while also receiving income support payments through Centrelink.
1. Disability Employment Services (DES) – operated by the Commonwealth government, for Australian residents with disability. Entry to the DES can be via a direct registration with a DES provider.
2. Private rehabilitation providers – Clients with compensation may be referred to a private vocational rehabilitation provider, working under plans approved by the insurer/scheme agent or authority.  People with TBI in NSW may have compensation claims if their brain injury resulted from an accident at work or in a motor vehicle accident. An individual may have a single, or multiple claim types.
The schemes concerned with the provision of rehabilitation services for people with TBI include:
• No-fault scheme that provides treatment, rehabilitation and care services for people severely injured in a motor accident in NSW
• Commenced in October 2006 for children and in October 2007 for adults with severe injuries sustained in motor accidents.
• Funded by a levy on NSW Green Slip insurance policies.
• No loss of wages or income support is paid to scheme participants.
• Eligible Lifetime Care participants may also claim a period of weekly benefits and compensation settlement through the CTP scheme.
• Lifetime Care also manages treatment, rehabilitation and care for people with severe injuries sustained in a workplace accident, applying the same admission criteria and approach as for icare Lifetime Care participants
• The workers compensation legislation still applies for these workers, including income support entitlements and RTW obligations.
• Insurance coverage for employees in NSW, funded by employers' annual workers compensation premiums.
• Currently three scheme agents plus self and specialised insurers.
• Covers all types of injuries sustained at work or as a driver/passenger/pedestrian travelling as a core component of work duties. In the case of TBI, , only those with mild-moderate injuries are covered within this scheme (severe injury should be managed within icare Workers Care).
• Where the TBI was sustained in an MVA, workers may have additional Lifetime Care and/or CTP claims.
• Responsible for: wages, compensation, treatment, care and RTW services.
Compulsory Third Party (CTP) scheme
• SIRA regulates the Compulsory Third Party (CTP) insurance scheme.
• Funded by NSW motorists though CTP (Green Slip) insurance policies.
• Following scheme reforms, for injuries sustained after 1 December 2017:
All injured people regardless of fault are entitled to up to six months of weekly income payments, medical and treatment expenses.
Medical treatment and care benefits can continue as required, regardless of fault
 Income benefits can continue for up to two years for people who were not at fault in the accident, and up to three years depending on assessed level of whole person impairment and time taken to settle the claim.
• For people injured prior to 1 December 2017:
The scheme continues to be fault based. Only people able to prove fault of another vehicle can claim compensation.
No income support provisions in the old scheme..
• As stated above, people with severe injury have treatment, rehabilitation and care provided under the icare Lifetime Care Scheme and may claim compensation related to economic and non-economic loss through the CTP scheme, depending on eligibility.
Income Protection
Insurance designed to pay a benefit if the person is unable to work for a period of time because of illness or injury.
Some income protection policies may fund rehabilitation and support to return to work.
3. NDIS
The National Disability Insurance Scheme (NDIS) assists Australians aged under 65, who have permanent and significant disability with funding for supports and services.
The NDIS funds some employment supports, including: on the job support if assistance is needed in the workplace (within an Australian Disability Enterprises (ADEs) or open employment setting), employment related assessment and counselling, individual and group employment support and School Leaver Employment Supports (SLES).   Other NDIS funding can also be used to build skills important for employment such as independent living or travel training.
NDIS have developed an information booklet for clients to assist start the conversation about work.  The booklet, Let's Talk About Work is on the NDIS site:
The VIP The Manual

Contents
Glossary
Introduction
Acknowledgements
Section 1
Background to vocational rehabilitation provision
Employment services for people with TBI
Compensation schemes in NSW
The Vocational Participation Project
The VIP trial
Section 2
Overview of brain injury
Brain anatomy
Brain injury
Effects of TBI
Recovery from brain injury
Section 3
Vocational rehabilitation for brain injury
Assessment methodology
Goal setting
Return to work (RTW) planning: pre-injury employment   
Section 4
The VIP model
Section 5
VIP Intervention pathways
Pathway delineation and determination of provider
The Fast Track pathway
The New Track pathway
Section 6
VIP pathways for icare Lifetime Care and Workers Care participants
icare Lifetime Care
Lifetime Care Fast Track pathway
Lifetime Care New Track pathway
icare Workers Care
Workers Care Fast Track pathway
Workers Care New Track pathway
Section 7
Program governance and communication
Section 8
Program evaluation
Section 9
Case studies
Case study 1 – Fast Track
Case study 2 – New Track
Section 10
Assessment tools, forms and reports
Assessment tool: City of Toronto
VIP Client Summary Tool
Forms and reports
References
Benefits of Participation in VIP:
For the participant:
Working together with brain injury clinicians and a vocational rehabilitation provider to identify strengths and overcome barriers to employment
Assistance to identify job goals and source opportunities for employment 
Improved quality of life and health outcomes associated with employment
Opportunity to expand social networks
Colleagues gain an understanding of the impact of the brain injury on working
For Fast Track (return to pre-injury employment): early contact with the workplace and dedicated time and expertise to plan the return to work
For New Track (locating new employment): an opportunity to explore work interests, identify job goals, gain new skills, and achieve paid work.
For the employer:
A coordinated approach for planning and managing the return to work process
Expert assessment of the job role and tasks to achieve the right job match
Improved knowledge of supporting individuals with brain injury in the workplace
Opportunity to employ a motivated job seeker with access to ongoing support from a vocational rehabilitation provider
Access to wage subsidies, equipment and workplace modifications, where applicable
Continuous support and feedback.
System improvement:
Better co-ordination of supports for people with brain injury in NSW
Increased employment participation for people with brain injury in NSW
Pathways available for people with brain injury to gain suitable employment across NSW
Streamlined processes for referral and commencement of employment supports
Established network of vocational rehabilitation providers working collaboratively with BIRP Teams to improve employment experiences for people with brain injury
Improved knowledge, understanding & skills of vocational rehabilitation providers and brain injury clinicians to promote sustainable return to work outcomes