3.2 Impacts
How impairments resulting from a TBI may impact upon a person's performance of daily tasks
i) Impact on daily living skills
Injury to a particular part of the brain can cause a person to have difficulty performing one or more of the skills they require for daily living activities.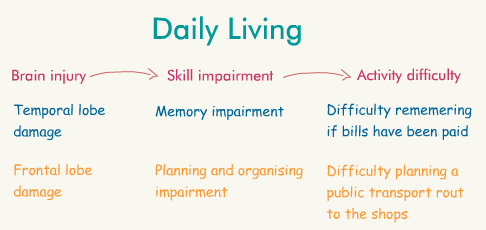 Below is a list of common ways that skills required for daily living activities are affected by traumatic brain injury:
Memory – difficulty remembering events, appointments, names, requests, telephone numbers, messages. i.e. not remembering home phone number.
Planning and organising – difficulty planning activities, organising work areas, coordinating tasks or appointments and getting ready "on time". i.e. always being late to appointments.
Attention/Concentration – difficulty maintaining focus on tasks and completing tasks. i.e. not monitoring items cooking on stove.
Physical abilities – muscle weakness and/or loss of coordination (arms, legs, trunk, head), spasticity/tone/contracture,  difficulty walking and transferring. i.e. needs a wheelchair for mobility.
Communication – may have slurred speech, word finding difficulties, decreased ability to understand words or express themselves appropriately. i.e. not able to ask for items or assistance when shopping.
Energy  - difficulty maintaining energy levels to complete tasks i.e. unable to walk distance to local shopping centre.
Motivation – difficulty identifying and completing relevant tasks due to lack of interest or enthusiasm for the task. i.e. refusing to shower daily.
Self monitoring – difficulty recognising when they are making mistakes or are inappropriate in their behaviour. i.e. repetitively doing the same task incorrectly.
Behaviour management – difficulty monitoring/controlling their own behaviour including anger, inappropriate conversation and/or offensive behaviour. i.e. yelling at random people in shopping centre for no reason.
Problem solving – difficulty identifying there is a problem and determining the best solution. i.e. catching wrong train and not getting off to try to find the correct train.
ii) Gabrielle has a TBI (11 mins)
Watch Gabrielle's short story.
Click on the image to go to the video player. The video may take a few moments to load.
Answer the following questions
1. What stage of life (lifespan graphic) was Gabrielle in when she had her injury?
2. What abilities do you think were affected due to her injury (person's ability graphic)?
3. What goals did she did she have during her rehabilitation?
4. What impacted on her achieving her goals (positive and negative)?

Check your answers here
1. What stage of life (lifespan graphic) was Gabrielle in when she had her injury?
School years
2. What abilities do you think were affected due to her injury (person's ability graphic)?
Mobility, cognition, participation, getting along, life activities, mobility (all areas)
3. What goals did she did she have during her rehabilitation?
Increasing independence in everyday tasks
Returning to school
4. What impacted on her achieving her goals (positive and negative)?
Positive: Family support, rehabilitation team (inpatient and community), supportive school environment, motivated
Negative: Severe injury, change in roles